We are beginning our Glocal (Global/Local) Dining experience for CAPCA members and friends. It is the "new" Global dinners format for our group. We want to celebrate and support some of the small restaurant owners that make our city into a global food landscape.
The procedure is a bit different. We will be promoting one restaurant per month and we encourage you to check it at your leisure during the month. At the end of the month, we will do a community Zoom discussion to connect with each other, talk about our meals, and learn some more about the restaurant and how its presence enhances our community. Below are the instructions for the event:
Register on the website (CAPCA's website) - Since this event will not be in person, we would love to get an idea of how many RPCVs have supported the highlighted small business each month. This is also ensure you receive the Zoom details for the discussion at the end of the month.

Call the restaurant within the prescribed month

Order (if applicable ask for the Peace Corps special price of the meal - We will note if this is available).

We invite you to share your experience on social media and tag @chicagoareapeacecorps or use the hashtag #CAPCAGlocalGrub.

Carry out or get delivery from the restaurant

Join us at the end of the month for a community Zoom discussion about the meal + impact of this restaurant in our community.
AUGUST GLOCAL DINING DETAILS
RESTAURANT: Soul Veg City (formerly Original Soul Vegetarian)
ADDRESS: 203 E. 75th Street, Chicago, Il.
PHONE NUMBER: 773-224-0104
WEBSITE: https://www.soulvegcity.com
RPCV Special for the Month of August: $15.00 plus tax for the sandwich, fries, and greens
Community Zoom Discussion: August 26th from 7:00-7:45PM
RESTAURANT DESCRIPTION:
This vegan restaurant was started by Arel Brown and Lori Seay's (now owners) father who had a vision to take his healthy vegan home cooked meals to the public and has been very successful for 37 years serving to non-vegetarians and vegetarians. This vegan restaurant promotes the regeneration of our environment: They create food that is 100% plant based and completely free of animals and chemicals. They use no refined sugars, flour or rice---allowing you to indulge in taste without guilt AND IT'S SOOOUL GOOD..
Chuck Sheftel's personal favorites: Gyros and BBQ Twist sandwiches. But I love them all. Enjoy!!!!!!
We look forward to seeing you soon!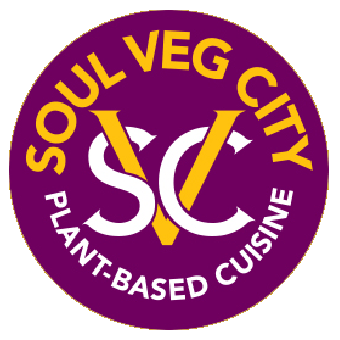 Order at your leisure over the month of August & then join us on August 26th at 7PM for a Community Zoom Discussion