Come on down to Grape Leaves Restaurant for this month's Glocal! An intimate, mural-lined restaurant offering falafel, kebabs & other Middle Eastern specialties.
Join us to take in the last of the Summer this Thursday, 8/25, from 6:00 PM - 8:00 PM.
Check out their impressive menu here: https://www.grapeleaves.us/
Important Notes: It's CASH ONLY and BYOB!!! The restaurant's seating capacity is 30 people. The first 30 people will be permitted. Once filled, the RSVP page will be closed.
Date: Thursday, August 25th, 2022
Time: 6:00 PM - 8:00 PM
Location: Grape Leaves Restaurant (129 S Oak Park Ave, Oak Park, IL 60302)
Directions: Exit the CTA Green Line - Oak Park stop; Head south on N Oak Park Ave toward South Blvd
Let's eat!!!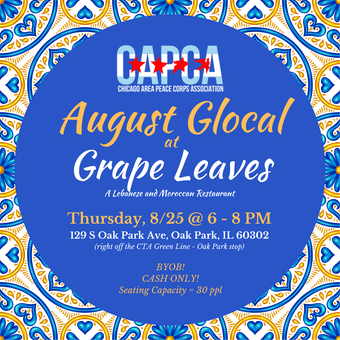 129 S Oak Park Ave, Oak Park, IL 60302, USA