Join us in the Marrakesh Room at Alhambra Palace on October 20th for our annual fundraising dinner
(F.K.A. Founder's Day)
WHEN: Sunday, October 20th from 5:00 - 9:00
WHERE: Alhambra Palace (1240 W. Randolph) - Marrakesh Room
WHAT: Dinner will be a lavish buffet of non-vegetarian and vegetarian food: hummus, baba ganoush, falafel, fattoush salad, chicken kabob, beef kabob, vegetable tagine, rice, grilled vegetables, and desserts.
WHY: To come together as a community and raise funds to distribute to active PCV projects. This is our largest fundraising event of the year with proceeds directly benefit Peace Corps Partnership Program (PCPP) grants led by Chicago-area PCVs in their host countries as well as local organizations with missions consistent with Peace Corps' Third Goal.
HOW: The restaurant is located just a few blocks from the Green/Pink lines at Morgan Station. Buy your ticket and/or make donations to CAPCA above!
WHO: Any and all CAPCA members and their loved ones are invited!
GUEST SPEAKER: We will be welcoming speaker Dr. Maria Vidal de Haymes — Professor in the School of Social Work at Loyola. As an instructor of social welfare policy and migration studies, Dr. Vidal de Haymes will be speaking about some of the current challenges and problems in immigration. Dr. Vidal de Haymes directs the Migration Studies Sub-specialization and coordinates a migration-focused international social service exchange between Loyola University, Universidad Iberoamericana-Mexico City, Jesuit Migration Services of Mexico, and Catholic Charities of the Archdiocese of Chicago.
DONATION: In solidarity with so many refugees and immigrants who make Chicago such a rich and diverse place to live, 50% of the proceeds will be donated to Refugee One - a local agency that has welcomed more than 18,500 refugees from every major world crisis, including Cambodian survivors of the infamous killing fields, Rwandans and Bosnians fleeing genocide, Iranians forced out by the Islamic Revolution, Syrians displaced by the ongoing civil war, and our fellow Americans displaced by Hurricane Katrina.
This is a CAPCA-organized event but we are excited to welcome anyone interested in joining and learning more about what we can do better to support our friends and neighbors!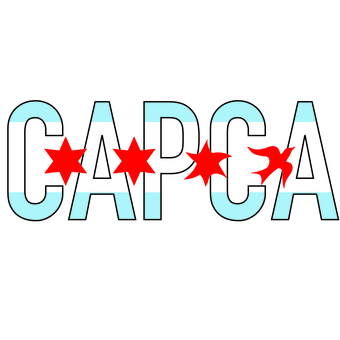 1240 W Randolph St, Chicago, IL 60607, USA