Registration for this event has passed
Please see the following message from CAPCA Member Amy Kunz:

Hi, CAPCA!
I hope you'll join me and some of my colleagues on Thursday, January 28 at 6pm to learn more about The Trust for Public Land's local work with a Virtual Tavern Talk: "The Superpowers of Parks: How access to greenspace affects mind and body."
Chicago Program Director Caroline O'Boyle will be discussing the many health benefits of parks with a panel of experts including Dr. Frances Kuo, Associate Professor at University of Illinois at Champaign; Pastor Reshorna Fitzpatrick, Associate Pastor of Stone Temple Baptist Church and a faith leader in the North Lawndale community here in Chicago; and Dr. Sadiya Muqueeth, Director of Community Health at the Trust for Public Land.

You can learn more about this topic and panelists, as well as reserve your spot here: https://www.paperlesspost.com/go/AwR0l06tvXkp3yszbvAg
I hope to "see you" on the 28th!
Best,
Amy Kunz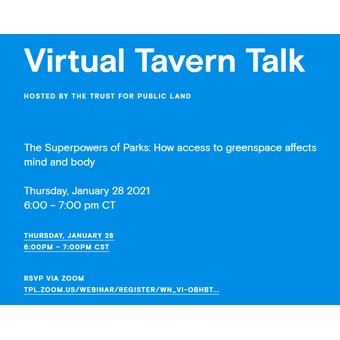 RSVP Via Zoom: https://tpl.zoom.us/webinar/register/WN_vI-OBHBTTja9iRNagTPgnA